They are tasty, thermostable and come in a variety of flavors.
One of the most popular uses is as a donut filling. All types of fillings: cream, smooth and with fruit pieces will work perfectly when making this sweet treat. Thanks to its unique recipe, Lauretta can be used in donut sealed before frying as well as after frying. Lauretta is convenient and easy to use, and tastes amazing!
All of the Lauretta fillings can be deep-frozen. Our customers send them frozen to their end points, such as gas stations and supermarkets, where they are defrosted and reheated. The fillings withstand this process without any changes.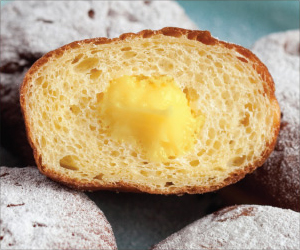 Cream fillings
Flavors such as vanilla, egg liqueur and chocolate are the basis of our offer but there are equally tasty and interesting alternatives: coconut, toffee, rum and chocolate and champagne.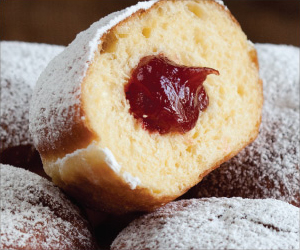 Smooth fruit fillings
Clients usually prefer donuts with fillings that are very popular in Poland: strawberry, sour cherry or raspberry. However, it is sometimes worth experimenting and using other, very distinctive-flavored fillings such as apricot or kiwi.
We also recommend donuts with traditional plum filling. It's a classic at its best! Plum butter is thick, aromatic and very... plummy! We produce them with the highest quality plums.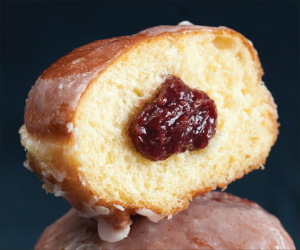 Fruit filling with fruit pieces
Blackcurrant 50%, sour cherry 50% and raspberry 60% fillings are the basis of premium donuts.
Our new flavors: strawberry 50% and dark berries 35% will satisfy the most demanding customers.